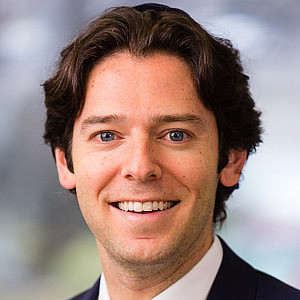 Justin Pines
Director of Youth and Young Adult Initiatives
Rabbi Justin Pines directs national Youth and Young Adult Initiatives for the Shalom Hartman Institute of North America. Previously, he served as Hartman's Director of New York.
Prior to joining Hartman, he served as Director of Character Development (Mashgiach Ruchani) at the Ramaz Middle School, where he developed and implemented character development (Mussar)  programming for parents, faculty, students and leadership. He also served as the Senior Fellow at the JJ Greenberg Institute for the Advancement of Jewish Life, where he worked closely with Rabbi Dr. Irving 'Yitz' Greenberg on a variety of writing and programming projects.
The grandchild of four Holocaust Survivors, he received his BA in Communications from the University of Pennsylvania and his JD from Harvard Law School. He is an alumnus of the Wexner Graduate Fellowship, the AIPAC Lefell Fellowship and the Encounter: Davar Acher Leadership Program Fellowship.  A love of exploring Jewish ideas with different people led Justin to study at Pardes, Machon Shlomo, Yeshivat Har Etzion, Orayta, and Yeshivat Chovevei Torah, from where he received rabbinic ordination. Before becoming a rabbi, he practiced corporate law at Paul, Weiss, Rifkind Wharton & Garrison, LLP.
Justin and his family live in Englewood, New Jersey, where he serves on the board of the Moriah School.