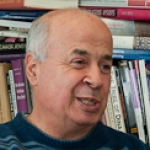 Ya'akov Castel
Director, Lev Aharon Program
Ya'akov Castel is Director of the Institute's Lev Aharon program. He has an MA in Jewish history from The Hebrew University of Jerusalem. Ya'akov is a reserve Colonel in the Israel Defense Forces and was Director of the IDF's Department of Education.
Prior to his current position at Shalom Hartman Institute, Ya'akov served as the Institute's Assistant Director of Education
He also has served as Director of Education at Yad Yitzhak Ben Zvi. Ya'akov directs a program for the Yitzhak Rabin Museum and was a personal advisor to the Chief Education Commander of the IDF.