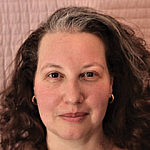 Ayelet Naeh
Counselor, Maskilot Program
Ayelet Naeh is the counselor of the doctoral candidates on the Maskilot program and a clinical psychologist, specializing in psychotherapy for adults along with counseling and coaching in various fields at her clinic in Jerusalem.
Naeh is also a lecturer in the dynamic psychotherapy training program of the Hebrew University Psychological Service and in the Healing Power of Hasidic Stories program of the Hasidic Studies Chair of Bar Ilan University.
As a doctoral student at the Department of Literature of the Jewish People at the Bar Ilan University, she is writing a dissertation on the concept of "Hitkallelut" – Integration in Zoharic Kabbalah.