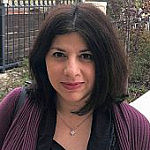 Sagit Eisenberg Mordechai
Chief Financial Officer
Sagit Eisenberg Mordechai is Chief Financial Officer at the Shalom Hartman Institute.
Sagit joins the Shalom Hartman Institute after 14 years of working for the Jewish Agency. She held several management positions, most recently as the Director of Budget and Economics. Prior to that, she was an audit team manager at KPMG. She is a CPA and has a BA in accounting and MBA from the College of Management-Academic Studies.
She grew up in Kfar Adumim and lives in Jerusalem with Ran and their three children.