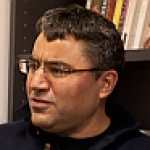 Pini Ifergan
Research Fellow
Dr. Pini Ifergan is a Research Fellow of the Kogod Research Center at the Shalom Hartman Institute. He is a lecturer at the Hebrew University and at Bar-Ilan University. He specializes in classical German philosophy, in particular Hegel.
His research focuses on the philosophical conceptualization of the modern epoch and aims to characterize the uniqueness of the consciousness of modern man.
For the 2016-2017 academic year, he heads up the Institute's Human Rights and Judaism research team.