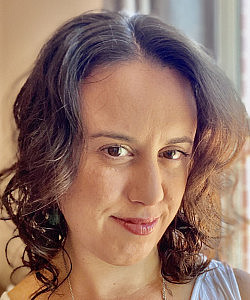 Hila Ratzabi
Development Coordinator and Writer
Hila Ratzabi was a Development Coordinator and Writer for the Shalom Hartman Institute of North America, where she edited and developed content for the Development, Marketing, and Communications teams, in addition to translating Hebrew texts.
Hila holds a Master's of Fine Arts in Poetry Writing from Sarah Lawrence College, a Bachelor's in Jewish Philosophy from List College of the Jewish Theological Seminary, and a Bachelor's in English with a concentration in Creative Writing from Barnard College. She has been a freelance copy editor of academic Jewish texts for nearly twenty years, while holding a variety of positions in publishing and in Jewish organizations.
Hila's writing has been published widely in literary journals and in The Bloomsbury Anthology of Contemporary Jewish American Poetry and Ghost Fishing: An Eco-Justice Poetry Anthology. She was the Editor in Chief of Storyscape literary journal (2011–2017) and founded the Red Sofa Salon & Reading Series in Philadelphia, where she hosted poetry workshops and readings.
Born in Rehovot, Israel, Hila was raised in Queens, New York. She currently resides in Oak Park, Illinois, outside Chicago, with her husband and two children. Hila also serves as the Executive Editor of Ritualwell.org.
May 8, 2022