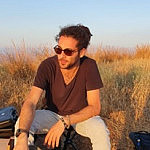 Eldar Platek
Hevruta Group Coordinator
Eldar Platek is a Hevruta Group Coordinator. He was a counselor in Cohort 6.
He was raised in Kiryat Motzkin and served in the Combat engineering forces. After his release from the army,  he began working in the informal education sector with mixed Israeli and non-Israelis Jewish groups such as Project Ten and Kol Ami by the Jewish Agency.
Eldar lives in Jerusalem and in his free time likes playing guitar, reading, and being outdoors.