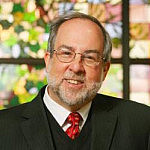 Ed Feinstein
Teaching Faculty
Rabbi Ed Feinstein is a Hartman Institute faculty member, the senior rabbi of Valley Beth Shalom in Encino, California and an instructor at the Ziegler Rabbinical School of the American Jewish University. Formerly, Rabbi Feinstein served as founding director of the Solomon Schechter Academy of Dallas, Texas, associate rabbi of Congregation Shearith Israel in Dallas, and director of Camp Ramah in California. He holds degrees from the University of California at Santa Cruz, the University of Judaism, Columbia University, and the Jewish Theological Seminary of America, where he was ordained in 1981. In 2016, he was awarded an honorary doctorate by the American Jewish University in recognition of his service to the Jewish community.
Rabbi Feinstein is the author of four books. Tough Questions Jews Ask – A Young Adult's Guide to Building a Jewish Life, and Jews and Judaism in the 21st Century were finalists for the National Jewish Book Award. Capturing the Moon, retells the best of classic and modern Jewish folktales. His latest book, The Chutzpah Imperative, traces the history of Jewish humanism.
Ed shares life with his wife, Nina, and their three children. Every Friday afternoon, he bakes brownies from a recipe revealed to his ancestors at Mount Sinai.
Jul 1, 2013